Kingsley's charity work puts community at the heart of its business
Kingsley Healthcare is proud to give back to local communities as part of its commitment to corporate social responsibility.
Our company charity, The Lotus Foundation, plays an active role in the cities, towns and villages where our care homes and head office are based by financially aiding good causes as well as supporting sports clubs and worthwhile community projects.
Meanwhile, with a focus on our own staff and their families, The Kingsley Foundation supports employees through personal crises and financial challenges.
Our philanthropic vision is unequivocally part of the DNA of Kingsley, starting at the top with the company's founders, Daya Thayan and his wife Sumi, and trickling down to our care home staff whose enthusiasm for community work massively increases the impact of our charities.
We are proud to support every age group in our communities from the sponsorship of town and village bowls clubs with a membership of largely older people to the backing of junior rugby and football teams.
Local charities we support range from East Anglian animal therapy group Mini Donkeys for Wellbeing to Dementia Active (Banbury), a support group near our Brackley Care Home.
In Lowestoft, Suffolk, where our head office, Kingsley Home Care team and three care homes are based, we have made a meaningful impact in a region of social deprivation through a number of initiatives.
These range from consistently supporting social events at Lowestoft Over 60s Club and helping high school students go on Scouting and charity expeditions overseas to funding festive lunches for the
homeless and Christmas presents for local primary school children.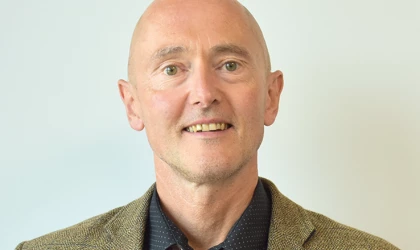 Our staff teams take their responsibility to their local communities very seriously.
We are proud to make a real difference to people's lives but it is undoubtedly true that Kingsley also benefits from helping others. Successful care homes need to be at the heart of their community and depend on a good reputation, positive feelings and word-of-mouth recommendations.
This is why we are so passionate about seeking out good causes to support in communities such as Bedford, Holt, Olney and Great Yarmouth where we are currently building new care homes.
Stephen Pullinger
Marketing Director and Head of Public Relations
During the Covid pandemic, The Lotus Foundation and Kingsley Foundation played significant roles in supporting both staff and older people in our communities.
Initiatives included raising morale and easing isolation through the collection of shopping and prescriptions and the delivery of gift bags to older people and the disabled.
Examples of projects we are currently supporting show the breadth and scale of our charity work across
the country.
Kingsley's East Anglian homes: Sponsorship of Mini Donkeys for Wellbeing. Our support enabled the charity to continue through the pandemic when care home visits were not possible.
Sharston House Nursing Home in Knutsford – Sponsorship of Egerton Football Club and Knutsford Rugby Club Both are thriving clubs at the heart of the community and have links with our own staff and their families.
Brooke House Care Home near Norwich – Sponsorship of Brooke Cricket Club.
Park Lane Care Home in Congleton – Contribution to the home's Cash for Kids charity collection to fund Christmas gifts for children. This was led by staff and shows our commitment to local charity work at every level of the business.
Kingsley Specialist Services – Sponsorship of East Coast Hockey Club in Lowestoft to support its initiative to make the sport more accessible to young people. The request came from Kingsley's Group Operations Manager Specialist Services Jo Pilbrow who is a club captain.
Thorp House near Watton – Donation to fund a Covid memorial in Watton. The campaign for a fitting memorial to the victims of Covid in our care homes and the wider community was passionately led by Thorp House employee Marcia Hughes.
Heron Lodge Nursing Home in Wroxham – Sponsorship of Wroxham Football Club. This successful club touches the lives of nearly everyone in the village. Our sponsorship this year extended to the women's team, reflecting the growth of the women's game.
Hadleigh Nursing Home – Sponsorship of Hadleigh Cricket Club. The club is a neighbour of our nursing home and at the heart of the community. Sponsorship of rising pool player Harvey Ballard (Hadleigh administrator Karen's son); Donation to the town's Christmas Presents Charity supporting financially challenged families.
Buckingham Lodge Nursing Home in Carbrooke – Sponsorship of Great Witchingham Cricket Club. Donation to administrator Millie's skydive fundraiser for Alzheimer's Society.
Brackley Care Home – Sponsorship of Brackley Bowls Club; Donation to Dementia Active (Banbury) charity; Support for Brackley Athletic under-10s girls' football team.
Colne House Care Home in Earls Colne – Sponsorship of Earls Colne Football Club; Sponsorship of Pro-Am at Colne Valley Golf Club. Colne Valley Golf Club are our good neighbours in the village and it was great to cement our relationship by sponsoring this fantastic event.
Sycamore Heights Nursing Home in Bedford – Sponsorship of Bedford Borough Bowls Club. Reaching out to the community where we are building our latest luxury boutique care home.
Olney Meadows in Olney – Sponsorship of Olney Bowls Club; Support for a garden project at Olney Pre School. Developing community links ahead of the opening of our luxury 66-bedroom nursing home.
King's Court in Holt – Holt Bowls Club sponsorship. Community engagement ahead of the opening of our luxury nursing home in early 2024.
Eversley Lodge in Great Yarmouth – Wellesley Bowls Club sponsorship. Support for a much-loved institution in the town where we are building our latest boutique, luxury care home.
Gower Gardens in Halesowen – Shirt sponsorship for Romsley Cricket Club; kit sponsorship for Cradley Town FC. Staff links to these popular clubs prompted our sponsorship.
St Clements Nursing Home in Norwich – Support for staff and residents' sponsored walk initiative in aid of Norwich and District Diabetes Youth Group.
Yaxley House Care Home near Eye – Sponsorship of Eye Bowls Club.
Kingsley Home Care in Lowestoft – Support for Lowestoft 0ver-60s Club.
Kirkley Manor Nursing Home and Lilac Lodge Care Home in Lowestoft – Support for Benjamin Britten Music Academy students in their fund-raising to go on overseas expeditions.
Kingsley House head office team – Support for Salvation Army Christmas lunch for homeless.
Kingsley - A journey of philanthropy
To find out more about Kingsley's charitable work at home and abroad.