Brooke House resident Michael has poetry book published at 82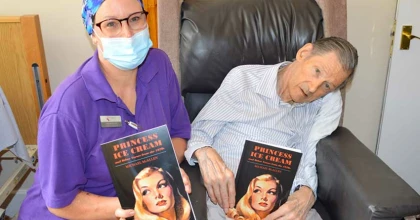 As a young accountant working in Norwich in the early 1970s, Michael McAllen became entranced by a beautiful young girl who used to parade up and down Prince of Wales Road during her lunch hour.

That enduring vision inspired him to write his first ever poem, Princess Ice Cream "There never was such loveliness. For few can match and none surpass this girl with beauty, poise and class" - and enter it into a national poetry competition, taking the £25 third prize, about £250 in today's money.

Fifty years on, and having lived in Brooke House care home, in Brooke, for the past four years, Mr McAllen has finally succeeded in having his first poetry collection, Princess Ice Cream and other verses from the 1970s, published at the age of 82.

The book of 50 poems, published by London publishers Austin Macauley and to be sold in Jarrold's, Norwich, has been dedicated to Brooke House activities coordinator Liz Borrett who helped him put it together from a mass of papers in his desk.

She said they had initially sent Princess Ice Cream to the publishers who liked it and asked to see more.

Mr McAllen's brother Nick laboriously typed out the book's final draft.

The poems, whittled down from more than 80 he wrote during the 1970s, span the lifelong bachelor's diverse interests, from the world of films, to politics and sport.

His poem Down South America Way about Britain's inflationary pain during the administrations of Harold Wilson and Ted Heath is uncannily topical.

Mr McAllen, who has advanced Parkinson's Disease, confessed he had never had the urge to write poetry until his eyes had fallen on "Princess Ice Cream".

And by the end of the decade he no longer had the desire to put his sharp observations concerning everything from abortion to Thalidomide into verse.


Find out more about Brooke House care home

Author: Stephen Pullinger