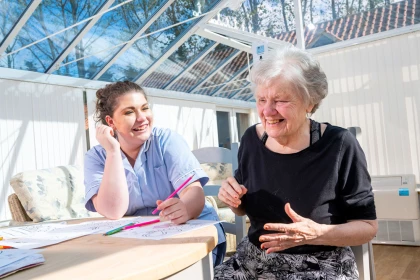 Innovation in dementia care
We're passionate about improving levels of care for people living with dementia across the Kingsley Healthcare Group homes, and we've worked with some of the country's leading dementia experts to develop our Kingsley Strategy.
This work is part of Kingsley's ongoing investment in our Dementia Care Strategy. The strategy enhances the culture of care and kindness and delivers a genuine and meaningful person-centred approach. Staff are nurtured and encouraged to interact with our dementia residents in innovative ways, both inside and outside our care homes.
Dementia and WINGS
Kingsley is committed to providing the best possible outcomes for people living with dementia and their families. We have developed our WINGS (Welcome, Individuality, Nurturing, Guidance, and Sensitivity) philosophy of care.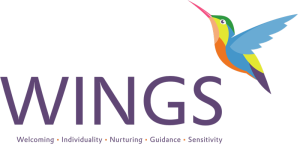 What is WINGS?
WINGS is an excellent example of our unique person-centred approach to care. The programme is exclusive to Kingsley care homes and trains staff to listen and understand all our residents' needs and treat everyone with respect and dignity. With this programme, we can be confident our staff have gained the right skills needed to provide a high level of care to our residents.

We have an innovative approach to dementia, and our bespoke learning programme is designed to ensure that the person with dementia is at the heart of everything we do.