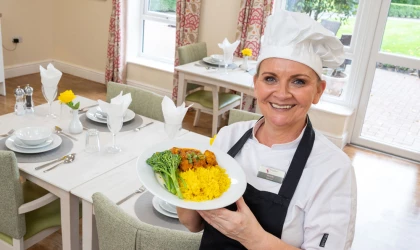 Investing in our staff
Kingsley promotes continuous training and professional development for all our staff.
It goes without saying that all our staff are trained to a high standard to enable them to do their job to the best of their ability. Professional qualifications and certificates are very important, as are kindness and friendliness; we believe in the all-round development of our team. As communication and interaction are vital, we have an established training programme focusing on developing these skills, which we believe are essential in any care role.
Training & Development
The care sector is highly regulated, and we are committed to promoting best practices. We strive to ensure our central support teams are fully trained in all the latest policies and procedures. Ongoing high-level training at all levels of our Kingsley luxury care homes business equips our staff with the skills and expertise required to deliver quality care to our residents – making Kingsley one of the most sought-after luxury care home businesses UK-wide.
Each member of our team of highly qualified and skilled care workers has the confidence to deliver first-class care, having either received their Care Certificate or working towards it. They also regularly undergo a diverse range of supplementary training, from safeguarding to manual handling and infection control. We have an extensive network of in-home and regional trainers – capable of providing specialised training programmes to staff and stakeholders.
"
Since Uncle has been here he has been looked after very well. The home has a very welcoming atmosphere and the staff are always on hand. Very much like an extended homelife in the care home. Very pleased with the care received.
"