What would be your ideal care home?
What would you want for yourself or your loved ones? Imagine...

A home in which you can enjoy all the benefits of being in your own home but with more to enjoy and far fewer worries
A place where you can have your own things around you, retain your own identity and just carry on being who you are in comfort and luxury
A home in which you can live how you want, with support and care on hand to make everything easy, safe and enjoyable
A home in which you can get up in the middle of the night and watch old movies, enjoy a midnight snack, and sleep in as late as you like
A place where your family can visit whenever it suits, and you have helpers who have become your friends around you all day, every day, to help remove the stresses or strains, so you can simply relax and enjoy it all
A place where if you want a little bit of peace and quiet, you've got it, or if you want to socialise with a few people around you, you've got that too

A place where you're valued, safe, respected, understood, supported and can stay in control of your own life with dignity
A place where if you forget things, it won't matter as someone else will remember on your behalf
...a place where you don't have to worry about anything.
Too good to be true? Then let us tell you more…
At Kingsley care homes, we pride ourselves on providing care and a smart and luxurious home. Many people are at first confused when they see residents getting involved in the daily tasks (such as dusting, polishing, laundry etc.), but we believe that everyone should have the opportunity to be busy and engaged in something worthwhile if they wish. It is clear that residents are part of the home and enjoy being involved with the carers, strengthening the bond between them.
Walking around a care home should feel like a home in a domestic setting, cosy, comfortable and welcoming. You will notice interesting items and boxes of items, or as we call them, 'stuff boxes'. These play a part in our sensory activities and allow residents to relish precious memories when looking at photographs. The objects enable our residents to touch, taste, smell, hear and see and are often beneficial to those with dementia. The walls are likely to be brightly coloured, and the residents' doors often have vibrant name plaques. Many of the grounds surrounding our homes have sensory gardens that are enjoyed by those living with dementia.
We are proud of our affordable luxury care, and our residents love all our facilities and numerous amenities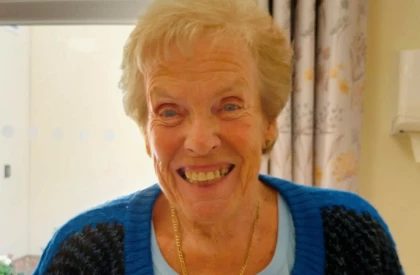 "
I like this place very much, I like living here. I love the staff and the food, the activities. I would definitely recommend this place
"