Sally has joined us to give Wings to our care home staff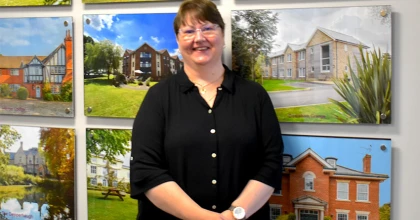 Sally Wells has taken on the role of dementia trainer at Kingsley and will soon become a familiar face in your homes.

She has been set the exciting challenge of reinvigorating our WINGS dementia care programme and rolling out training to all our staff.

Sally, whose experience spans three decades, emphasized the importance of person-centred care and good communication in supporting people living with dementia.

"Our goal is to minimise distress for someone living with dementia and support them to live as normal a life as possible. In most cases, their distress is caused by us and possibly the environment," she said.

"It is so important we support staff and equip them with the right knowledge. When I came into care there was no training and the person-centred approach was not around."

Sally's experience began with weekend shifts as a care assistant while she was still at school and college and she has gone on to acquire vast experience in a variety of settings.

Starting as a healthcare assistant in a London hospital, she moved on to a dementia day care service in the capital, "a job that opened my eyes and made me think about dementia care in a completely different way".

She recalled that during that era, in the late 1990s, when a patient came into hospital with dementia there were no facilities for them and they were treated like any other patient.

"I remember one instance when a patient who was very distressed and calling out was simply wheeled out the ward in their bed and left in the corridor to prevent other people being disturbed. There was no understanding of the distress and what was causing the behaviour," she said.

"At the day care centre, I had a fabulous manager who made me realise that we could do more than just get the person up, fed and dressed and give them their medication. We did lots of activities, we took people to the shops, to classical music concerts, even away on holidays."

Their approach was not born out of dementia care theory – still in its infancy – but from the principle of "treating people as people".

Sally went on to do pioneering work for a charity providing advocacy services for older people in Westminster, specializing in advocacy for people living with dementia in the days before the Mental Capacity Act.

She has since worked as a trainer and dementia care advisor for a number of care companies, including Four Seasons where she helped to roll out its bespoke dementia care programme Pearl – "very similar to Wings".

"My role involved delivering training and assessment – determining whether homes were achieving the right outcomes," she said.

Sally most recently worked as a training manager for B&M Care, providing support to their 26 residential and dementia homes.

In the course of her work, Sally found time to do a distant-learning dementia studies degree at the University of Bradford where the late Professor Tom Kitwood - pioneer of person-centred dementia care - once taught.

I am sure everyone will see Sally's appointment as an exciting step for Kingsley and we all embrace her mantra that "life does not stop when you come into a care home".

Author: Stephen Pullinger