Daily life at Branksome Heights
We believe in the personal touch
Kingsley is a business with a family feel throughout, so naturally, family is at the heart of what we do. When residents come into our care, they instantly become an important part of our Branksome Heights community.
We understand that choosing a place for residential care is difficult, no matter the circumstance. We aim to make the process run smoothly and be as stress-free as possible. We offer the emotional support you need to know that you're making the right decision and take the time to assess your and your loved one's needs. We explain how we can be there for you and them, not just when they need us most but every day.
Book a visit
Once they're trusted to our care, our excellent care team prioritises getting to know each resident individually
from how they take their tea to the songs that take them on a trip down memory lane, and much more.
Daily life at Branksome Heights
At Branksome Heights residential home, we take pride in giving our residents a contented and fulfilled home life. Our residents love the tranquillity of our surroundings. Our sun terrace is perfect for taking in the afternoon sun and overlooks our award-winning sensory garden. Families are always welcome and can join their relatives to participate in our many activities. From musical recitals to enjoying jigsaw puzzles, there is always something for our residents to enjoy and keep them engaged and entertained.
Whether exploring the sensory garden, enjoying a spot of gardening or tucking into a beautifully cooked meal, our residents' care and enjoyment are always at the forefront of our care team's minds. Our residents can take advantage of our proximity to the sea or take a trip to the local town centre, which is full of things to do and places to eat.
Mealtimes at Branksome Heights
Our menu is created by our creative Head Chef who takes her lead from our residents. We cater to our residents' favourite foods with delicious desserts. Dishes are made with locally sourced, usually seasonal ingredients that are packed full of nutrients and will tempt even those with tiny appetites. We always create restaurant-standard dishes, of course.
Mealtimes at Branksome Heights are flexible, and residents can choose when to eat breakfast, lunch and dinner. We even provide a Night Bites menu for those who like a snack before bed. Friends and family are welcome to join residents for lunch or dinner in our bright, beautifully designed dining room.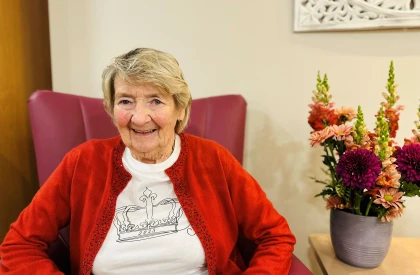 "
Thank you for all the care you give us and the kindness and attention shown. How lucky am I to have people like you in my life now I have reached this time of life.
"