Daily life at Hadleigh
We believe in the personal touch
We value the importance of personal touches. We are a family-founded care home, and our mission is to ensure that everybody at Hadleigh Nursing Home feels cherished, supported, comfortable and happy in our home-like environment.
We offer a bespoke approach to care, which helps us stand out. We always listen to our residents and take the time to hear what they say. Their needs and wishes matter to us, which is why we offer a personalised care service tailored to all residents' requirements.
Book a visit
Mutual understanding and communication are vital, which is one of the many reasons our residents are so content.
Family values are at the heart of everything we do.
Daily Life at Hadleigh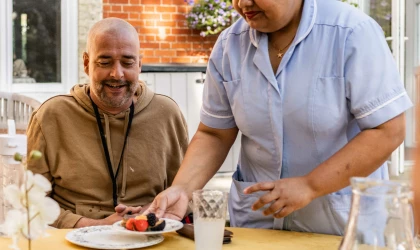 Whilst some of our residents prefer to savour their own company - or that of a novel and a cup of coffee, those wishing to experience new, exciting things are never short of things to do. From food-themed events to fun fancy dress days and more, staying entertained and having fun are two things we're hugely passionate about.
We like our residents to have plenty of choices regarding how to spend their day, so we're always arranging new activities and events for them to enjoy. One thing's for certain - there's never a shortage of things to do at Hadleigh, but if a day of downtime in front of the TV is calling their name, that's more than okay.
Mealtimes at Hadleigh
We pride ourselves on providing a flexible first-class dining experience that makes every mealtime just as special and enjoyable as the next. Using fresh, often locally-sourced ingredients, our chef rustles up nutritious, well-balanced, tasty meals of a restaurant-quality standard.
Our chefs create seasonal, nutritional menus using locally sourced ingredients. From delicious desserts to traditional dishes, as well as the chance to try something new, we cater for different palettes.
Friends and family are always welcome to join us for mealtimes so they, too, can taste the quality food our residents get to enjoy daily.
"
They know Mum very well and so provide a holistic approach to her care. I am very grateful for the understanding and kindness shown to my sister and me and, most importantly, to our mum.
"