Kingsley Home Care sponsored Tate becomes youngest holder of powerboat speed record
Nine-year-old Tate Mantripp has become the youngest recipient of a prestigious K7 Silver Star for setting a powerboat speed record on Coniston Water, in the Lake District.
Tate, a pupil at Carlton Colville Primary School, was competing at Coniston Records Week earlier this month, an international event held annually to honour the memory of Donald Campbell who broke eight world speed records on water and on land in the 1950s and 1960s.
He was competing in the GT15 class and set a speed record of 39.16mph – the average of two 1km runs on an out-and-back course - breaking the record of 38.13mph he had achieved earlier in the week.
His mother, Nikki Mantripp, 36, said: "Going nearly 40mph on water would feel like going 80mph in a car so it's quite nerve-racking watching your nine-year-old son go out alone on such a vast stretch of water."
She added that Tate was thought to be the youngest competitor to set a speed record in the 51 years of Records Week.
As well as receiving a K7 Silver Star, honouring the memory of Campbell's iconic Bluebird K7 boat, Tate was awarded The English Lakes Hotel Trophy as the week's youngster record breaker.
Tate, who lives in in Carlton Colville, was competing alongside fellow members of Lowestoft and Oulton Broad Motor Boat Club, 12-year-old Poppy Stewart and 30-year-old Ashley Penfold.
Poppy was also competing in the GT15 class and broke Tate's first record with a speed of 38.84mph before Tate re-took it at the end of the week.
Ashley was competing in the GT30 class and ended the week setting a new record of 53mph.
Tate's family roots are heavily engrained in the Oulton Broad-based club with dad Simon, 48, and cousin Jason Mantripp forming their OSY team many years ago after following the sport throughout their own childhood with their dads. Another cousin, Peter Mantripp, is the club commodore with a successful racing history of his own behind him, and who currently supports his son Thomas with his own powerboat racing endeavours and his uncle Ricky Gibbs who has also raced since his childhood days.
Tate's mother, who works at Kingsley Healthcare in Lowestoft as Group Financial Controller, said: "Tate wanted to get on the water since the day he could talk. He has been counting down the years ever since, to end his debut season with a British speed record is just fantastic, we are incredibly proud of him."
She said the cost of getting up and running and competing was considerable and they were grateful for Tate's sponsorship by Kingsley Home Care, JME Ltd, BFS Enterprise (Fabrications) Limited and MCH Landscaping which has helped Tate to pursue his dreams.
Featured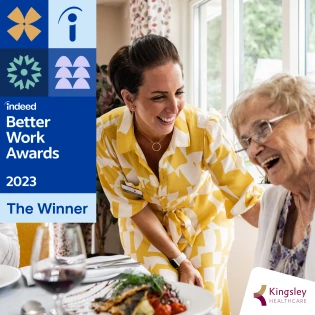 Kingsley Healthcare tops Indeed work wellbeing awards
Corporate news