Spring Lodge residents join smart device age!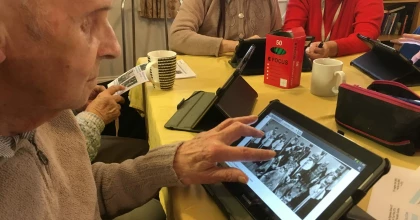 Spring Lodge residents join computer age! Residents at Spring Lodge care home, in Woolverstone, near Ipswich, are successfully getting to grips with 21st century technology at their new computer club. All those on the five-week course are at varying stages of their dementia journey but that has not stopped them from learning how to use tablet computers and find their way around the internet. The course is being led by tutors from the social enterprise Realise Futures, which is a leading provider of adult education across Suffolk. Aimee Davey, activities coordinator at the Kingsley Healthcare-run home, said: "I have discovered that the tablets are a great tool for reminiscence therapy. "People have been looking up things they remember on the internet, everything from old films to photographs of places where they used to live.
"One of our residents was delighted to find a picture of his first car, an Austin 10. "The sessions have led to all kinds of interesting conversations about their life stories." She said it was wonderful to see how easily elderly people took to the new technology. "One of our residents, Grace Bumphrey, was initially sceptical and said she was too old to start learning about computers at the age of 85. "However, after two weeks, she said the tablets were wonderful and asked how she could buy one," she said. Jamie Mortimer, computer and technology manager for Realise Futures, said: "We have been running these courses for about 12 months and are currently working with eight different care homes. The courses are free for care homes in Suffolk. "They are proving very popular and not a week goes by without a new request for a visit. Using computers is a valuable way to support and maintain mental health."
He said tutors were very patient and accepted it sometimes took longer to teach the skills, but they found working in care homes very rewarding.
Find out more about Spring Lodge care home in Ipswich