Daily life at Allonsfield House
We believe in the personal touch
We value the importance of personal touches, to enhance the lives of our residents, and our mission is to ensure that everybody at Allonsfield House feels comfortable. As a family-founded care home, we understand the importance of a family atmosphere and provide this for all our residents.
We offer a bespoke approach to care which revolves around the needs of our residents. We listen to all, and we take the time to hear what our residents say. Their needs and wishes are paramount, and we offer a tailored personalised care service that caters to our residents' needs.
Book a visit
We believe that mutual understanding and communication is vital, and our residents enjoy the atmosphere at Allonsfield House, and they also love our warm family atmosphere.
In short, we treat them (and you) as part of our Allonsfield House family.
Daily Life at Allonsfield House
With something for keen hobbyists, outdoor adventurers and everyone else in between, at Allonsfield House, we're delighted to offer a vast range of immersive activity days to our residents. From farm trips to painting classes and a selection of seasonal events (plus more), there's always something to see and do.
What's wonderful about life here at Allonsfield House is that everybody is free to go about their daily routine exactly as they wish. While there are plenty of things going on, those that prefer to keep a lower profile or simply enjoy a quieter, less busy approach are more than welcome to sit back and watch the world go by. We're always available to talk, support and have a laugh, however they wish to spend their time.
Mealtimes at Allonsfield House
Here at Allonsfield House, we're proud to make mealtimes a wonderfully social experience. We firmly believe in the importance of quality mealtimes with an authentic family feel, and of course, delicious, nutritious food is a must. Our incredible resident chef specialises in tasty, balanced meals carefully tailored to the needs of senior residents, enabling everybody to enjoy restaurant-quality food that's healthy and satisfying.
Our chefs can turn their hands to a 100-year-old's birthday celebration, creating special delights for parties or treats for the opening of the new Ashefield tea room. As befits a luxury environment, our food is restaurant quality and always nutritious using locally sourced produce.
Mealtimes are always eagerly anticipated by the residents. Meals in one of our two conservatories are a delight and our chef will create whatever our residents desire. We've even planted an organic garden to ensure that residents can enjoy the very best of fresh produce.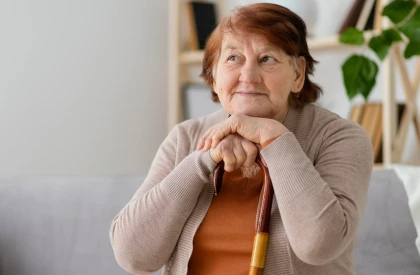 "
Vastly improved since coming here. All our likes like food, very well presented. The staff take great care with all aspects. The social side is now excellent and very well carried out. One of the best things is company transport to take us out. ...
"