Daily life at Brackley
We believe in the personal touch
Not only is Brackley a beautifully luxurious care home, but it also provides a warm and welcoming family-like atmosphere for its residents and staff. As Kingsley, we pride ourselves in extending the nurturing feeling of family to Brackley.
Many are nervous about joining a care home, but we make the process as easy as possible. We'll assess your relative's needs and work with the rest of the family to ensure that we understand the prospective resident as an individual.
Book a visit
Once your relative has joined us, we'll welcome our new family members and introduce them to the numerous activities they may want to enjoy.
We always extend the personal touch, whether drinking a relaxing glass of bubbly with their new friends or spending some quiet time with a staff member.
Daily Life at Brackley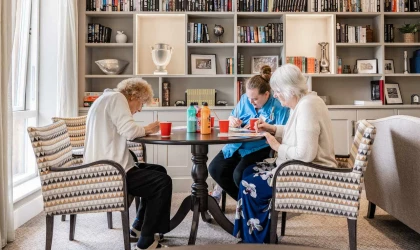 Residents at Brackley can enjoy a content and busy life. Nothing is too much for our staff when it comes to the happiness of our residents. Socialising with other residents is easy with our cinema, library and relaxing lounges. Our staff are always on hand to support residents in their activities and help everyone's enjoyment.
Our landscaped garden is beautifully relaxing and an excellent spot for a picnic. Or, for those searching for a pamper treat, we have an on-site hair salon. We encourage families to join their relatives to participate in the many activities we hold. From talks on conservation to painting classes, there's never a dull moment at Brackley.
Mealtimes at Brackley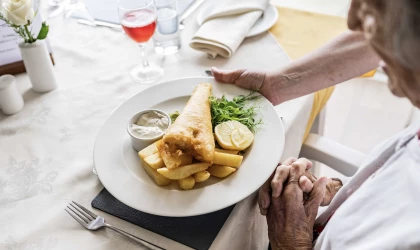 We're very proud of our food at Brackley. We have an onsite head chef, and there's nothing he likes better than creating dishes that will excite our residents. Ingredients are locally sourced and nutritious, and we offer an a la carte menu that residents can enjoy in our fine dining restaurant or our regular restaurant. Meals can also be enjoyed in the lounge or in the garden.
We also boast an extensive wine and spirits list – champagne often accompanies our picnics. Mealtimes at Brackley are flexible. Residents can choose when they wish to eat. Friends and family are welcome to join residents for lunch or dinner in our bright and beautifully designed Maypole Cafe.
"
All staff have been both helpful and caring. I have been impressed with the care my mother receives, nothing seems to be too much trouble and they have been open to any suggestions from me. I have always felt a part of her care and my input has always bee
"