Daily life at Heron Lodge
We believe in the personal touch
As a family-founded care home, we truly value the importance of those personal touches. Our mission is to ensure that everybody at Heron Lodge feels well taken care of, comfortable, supported and, of course, at home.
What makes us different is our bespoke approach to care. We're great listeners, and we take the time to hear what our residents have to say. Their needs and wishes matter most to us, which is why we offer a personalised care service uniquely tailored to the requirements of every resident.
Book a visit
We believe that mutual understanding and communication are key, which is one of the many reasons our residents are so content here.
Family values are at the heart of everything we do, and it shows.
Daily life at Heron Lodge
For those that like to keep busy and embrace the great outdoors, our comprehensive offering of outdoor activities will prove a fun and soul-soothing way to pass the time. From relaxing strolls along the riverfront to feed the ducks to leisurely boat trips looking out over the wetland, Heron Lodge is perfectly positioned to be at one with mother nature.
Our philosophy respects everyone as an individual. Our excellent team of wellbeing coordinators are at the heart of this programme, welcoming residents to enjoy an exciting new chapter in their lives.
With visits from local singers to carving pumpkins for Halloween, there are always plenty of activities to stimulate and enhance the lives of our residents. Regan, the therapy dog, proves a very popular visitor, bringing a smile to everyone's faces.
Mealtimes at Heron Lodge
Mealtimes at Heron Lodge are always enjoyable, social and, of course, delicious. Our expert chefs always use fresh ingredients - often locally sourced - to create nutritious, tasty meals packed with the right balance of ingredients.
Our passionate kitchen team works under the direction of our head chef who believes that care home residents should be able to enjoy restaurant-quality food.
Our delicious food will tempt even the smallest of appetites, and if residents want to share their mealtimes with family and friends, all will receive a warm welcome at Heron Lodge. Mealtimes are flexible as our staff always take the routines of our residents onboard.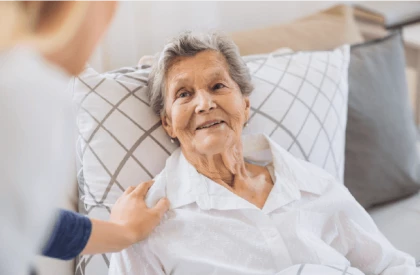 "
The nurses, care staff, managers, administrator and all other staff were excellent throughout the time my partner lived at Heron Lodge. They dealt wonderfully with the demands of his dementia and palliative care. They were professional, kind and...
"