Daily life at Highcliffe
We believe in the personal touch
Family is at the heart of Highcliffe Nursing Home, and we centre our care around our residents' needs; everyone is treated and respected as an individual.
We want everyone who joins our family to be as happy and content as possible, and we take time to learn about their likes and dislikes. Our care team will offer full support to your relatives and family members who may be concerned about the move to Highcliffe, and we'll make the transition as easy as possible.
Book a visit
From the moment your relative makes Highcliffe their home, we'll spend time getting to know them individually.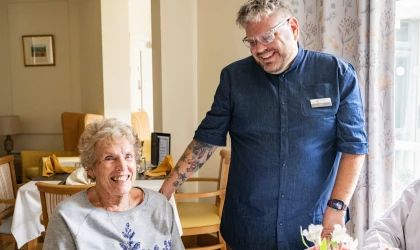 We'll encourage them to participate in their favourite activities, and we may even interest them in new interests.
Daily life at Highcliffe Nursing Home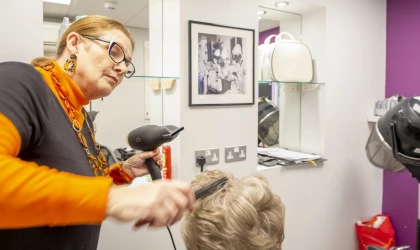 At Highcliffe nursing home, we ensure that residents can enjoy our contented family atmosphere. Our landscaped gardens, overlooking the sea, are ideal for enjoying the sun, and our residents love the tranquillity of our surroundings. Families are always welcome and can join their relatives to participate in the many activities we hold. From festive celebrations to other events, residents are kept amused and occupied.
Our food is locally sourced, and the menu will tempt even the smallest appetites. Our residents' care and enjoyment are always at the forefront at Highcliffe nursing home. The luxuriously refurbished lounge and dining area add to the residents' contentment.
Mealtimes at Highcliffe Nursing Home
Our residents' happiness is important to us. Our head chef has created our delicious menu. Our dishes use locally sourced, seasonal ingredients packed full of nutrients and tempt any appetite. We always create restaurant standard dishes, of course, and we cater to our residents' favourite meals and desserts.
At Highcliffe Nursing Home mealtimes are flexible. Residents can choose when to eat their breakfast, lunch and dinner. There is a Night Bites menu for late-night snacks before bed. We welcome friends and family to join their relatives for lunch or dinner in our newly refurbished dining room.
"
When I first stepped into this place, I was very impressed and I knew then, I made the right decision to come here.
"