Daily life at Oaklands
We believe in the personal touch
We are a family-founded care home; we understand the importance of the personal touch. Our aim is to ensure that all at Oaklands are secure, happy, comfortable, and supported and take pleasure in our home-like atmosphere.
Our bespoke approach to care is important to us and our residents. We listen to both family and residents, and we take the time to understand our residents' needs and wishes. Our residents are very important to us, and this is why we offer a personalised care service that's tailored to the requirements of all.
Book a visit
Family values are at the heart of everything at Oaklands.
We advocate mutual understanding and communication which is one of the many reasons our residents are so content and happy.
Daily Life at Oaklands
Some of our residents are happiest when enjoying their own company with nothing but a crossword and a cup of tea. However, for those that prefer a busier schedule with plenty of socialising, our wonderful range of activities are sure to delight. From seasonal events such as fireworks shows and carol singing classes to soothing animal therapy sessions, we're here to ensure our residents stay busy, entertained and fulfilled.
One of the many wonderful things about Oaklands is that we encourage our residents to live their lives exactly as they prefer to. There's plenty going on here, but for those that prefer to take a more relaxed approach, there's no pressure to partake in activities. Of course, for those that like to keep extra busy, our jam-packed calendar of events is ideal. The main thing we want our residents to know is that we're always on-hand to help. Whether they need something specific or they simply want someone to enjoy a coffee with, we're there.
Mealtimes at Oaklands
We understand that not everybody wishes to dine at the same time, which is why we're proud to offer a flexible dining experience to suit all. Our resident chef rustles up tasty, nutritious meals that leave taste buds tingling and tummies full.
What's particularly great about our meals is that all of our ingredients are fresh and carefully selected by our caterers with senior diners in mind. We understand that the appetites of our residents are less hearty, and all meals are prepared with this in mind. From the size of the meals to the way in which they're served, everything is carefully considered to ensure optimum satisfaction for our residents.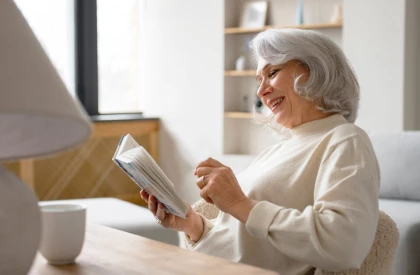 "
Staff are very helpful and treat Mother with respect. It is really appreciated, what all staff do especially under the circumstances they have to work. Many thanks for all you have been doing for my mother.
"