Meet the team
Life as a care worker is incredibly rewarding and fulfilling, but it isn't without its challenges. We understand how demanding the care industry can be, which is why we're proud to offer such a wonderful team of loving, compassionate and patient staff members. Each sharing the same kind and compassionate approach, our delightful team is here to ensure your loved one has everything they need to live a happy, comfortable and relaxed life, no matter their circumstances.
Amanda Baker

Home Manager

Manager, Amanda Baker is an experienced professional and provides stability and calm for all.

Dawn Wilkinson

Deputy Manager

Dawn brings over 10 years of experience in the care industry, demonstrating her unwavering dedication to supporting others. Born and bred in Suffolk, she finds solace in assisting her horses and enjoying leisurely walks with her beloved Labrador, Maple. With extensive dementia training and a wealth of knowledge in health and social care, Dawn's commitment to providing top-quality care is evident. Her level four management qualifications and seamstress expertise further showcase her diverse skill set

Jayne Radziszewski

Administrator

Jayne has worked for Oaklands since October 2021 as our administrator Jayne lives locally. She is passionate about animal welfare and over the years has raised a lot of money for animal charities. In Jayne's spare time she likes to spend quality time with her grandchildren and exploring Norfolk.

Emily Stocking

Activities Co-ordinator

Emily has worked at Oaklands for three years as one of our Activities Co-ordinators. She is originally from Colchester, Essex and moved to Norfolk in 2020 for a fresh start in the countryside. Emily has a BA Hons degree in early childhood studies and used to manage a before and after school club. Emily decided to change careers when she moved to Norfolk and finds it extremely rewarding. In Emily's spare time she enjoys gardening, antique hunting, riding her horse, walking her dog and spending quality time with her friends and family.

Said

Head Chef

Said, the head chef at Oaklands, has 30 years of experience, including working at executive hotels, being a head pastry chef, and catering for weddings and large events worldwide. He joined Oaklands in August 2020 after working at Kingsley Healthcare Head Office for events and chef training. Apart from work, Said loves spending time with his family and football.

Lyn Newby

Housekeeper

Lyn has been a Professional housekeeper for 24 years. She heads a Domestic team of 7 and has been at Oaklands, since October 2019. Lyn is married with two children 1 Granddaughter. In her spare time Lyn reads, watches films and loves all Motorsports.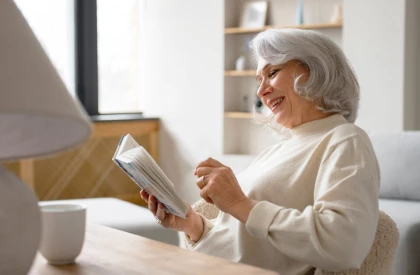 "
Staff are very helpful and treat Mother with respect. It is really appreciated, what all staff do especially under the circumstances they have to work. Many thanks for all you have been doing for my mother.
"