Daily life at Park Lane
We believe in the personal touch
Kingsley Healthcare is a family-run business, so naturally, family is at the heart of what we do. When residents come into our care, they instantly become an integral part of our Park Lane community.
We understand that choosing a place for residential care, no matter the circumstance, is difficult. We aim to make the process run smoothly and be as stress-free as possible. How do we do that? By taking the time to assess your and your loved one's needs and explain exactly how we can be there for you and them.
Book a visit
Once they're in our care, our excellent care team prioritises getting to know each resident individually – from how many sugars they like in their tea to what time their favourite TV show is on.
In short, we treat them (and you) as part of our Park Lane family.
Daily life at Park Lane
At Park Lane, no two days are the same. Residents are given a warm welcome at the Park Lane Bar – already a firm favourite with our current family. They can spend a morning getting their hair done in the team's care at our Park & Pamper Salon without stepping foot off the grounds. We offer quiet space for those who need time to unwind and communal areas for those who wish to socialise.
We also run regular events and activities to keep our residents busy. Our events flow with the seasons, so that we might have a crafting workshop one week and a tea party in the gardens the next. For those who like to stay active, there are regular light workout classes and games nights for the most competitive amongst our residents. Of course, we don't skip significant events, whether Valentine's Day or Christmas; Park Lane is always suitably decorated and festive.
Mealtimes at Park Lane
At Park Lane, we keep mealtimes flexible. Residents can eat breakfast, lunch and dinner at their regular hours. We also offer a Night Bites menu for those who like a snack before bed.
Our chefs create seasonal menus using locally sourced ingredients, so every meal is packed with nutrients. Those with a sweet tooth will love our traditional desserts, too – we cater to everybody's favourite dishes.
Of course, friends and family are welcome to join us for mealtime; residents can gather their loved ones for a special lunch or dinner.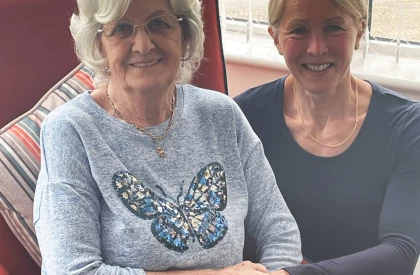 "
Mum has sadly suffered with Alzheimer for the last four years and went into Park Lane Care Home for two weeks of respite at the beginning of 2023. From the minute Mum walked through the door, the staff have shown nothing but kindness, patience and ...
"