Meet the team
The Park View team is comprised of professional and compassionate caregivers who devote themselves to the needs and happiness of our residents.
Ruth Baggs

Home Manager

Alex Cox

Administrator

Alex Cox looks after our admin and loves working for the Kingsley family. Serving the community is something of a passion for Alex, and she enjoys the fact that no two days are the same.

Julie Henry

Head Housekeeper

Our head housekeeper is Julie Henry, and she works with relatives and their families to create a home-like atmosphere in their own personal space and throughout Park View.

James Seeley

Head of Residential Care

James has five years of experience of working in nursing homes and is proud to be part of the Kingsley family. He has a passion for maintaining the highest standards of resident care and loves the fact that no two days are the same. He is proud to be CHPAS (Care Home Assistant Practitioner) trained and looks forward to progressing his career with Kingsley.

James Curran

Head Chef

James has worked in care homes for eight years but also has 12 years of experience in the hotels and events industry. He prides himself on high standards of cleanliness and has a passion for fresh food. He loves to bring hotel standards to the care catering sector. Food is a huge part of the day for residents and he believe that nutritious fresh food is one of the keys to a healthy lifestyle.
"
The staff cannot do enough for you. They have made me feel so good, I have told my family I would like to stay here. The food is lovely, I have stayed in a lot of places. This place beats the lot.
"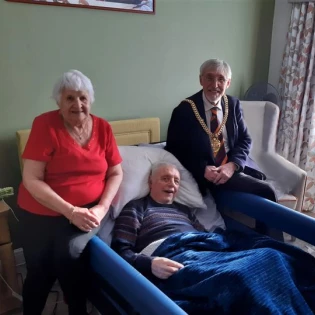 Lord Mayor drops in to Park View open day
Care Home news