Discover our Exclusive Respite Offer – Call us today
If you are seeking respite care for yourself or a family member the cost can often be a concern. That's why we are offering an all inclusive package to make it easier for families to budget and ensure that their loved ones receive the care they need without worrying about extra expenses.
We want our residents and their families to relax knowing that the fee they pay covers all the care they need. There are no hidden extras and no nasty surprises. The inclusive price covers everything you would hope for and a whole lot more!
What all inclusive includes at Sharston House
Traditional afternoon tea served weekly and family invited
Pampering experience in the home
Day trips
Free Wi-Fi and Internet access throughout the home
Free use of fixed telephone lines
TV Licence
Hairdressing
Chiropody
Smart TVs
Private Dining
Preferred newspapers
Dedicated family room for welcoming visitors
Kingsley hospitality services
Resident wellbeing and an enjoyable lifestyle are at the heart of everything we do in our care homes. Our hospitality managers pay attention to every detail to ensure we reach the highest standards in every aspect of daily living. Our goal is to combine a warm, homely atmosphere with the quality of service and environment you would expect in a top-class hotel.
Activities and wellbeing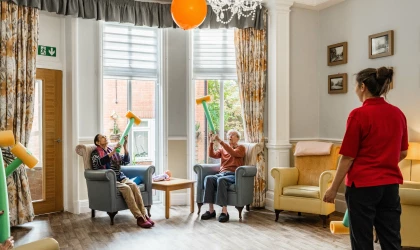 We want new residents and their families to view our care homes as a place where you can begin an exciting new chapter of your life. Maybe it's time to start a new hobby or interest or perhaps catch up with one that absorbed you earlier in your life?
We ensure residents have a choice of stimulating activities every day, from arts and crafts and cooking clubs to gardening and yoga. Our lifestyle coordinators are always looking for fresh ideas to spice up daily life!
Our homes are lively communities with regular performances by entertainers and visits by animals – from dogs and cats to donkeys and reptiles – for popular pet therapy sessions.
It's important for residents to feel part of the wider community so we organise regular outings and events in the home, from coffee mornings and afternoon teas to fetes and craft fairs, which local people can attend.
Mealtime experience
Our hospitality managers ensure that lunchtime is always a highlight of the day in our care homes with residents guaranteed a warm, sociable experience. Tables are set to top class hotel standards and our chefs provide a varied menu of equal quality, using fresh, locally sourced produce.
Technology and innovations
We are living in a fast-changing world and we don't want our residents to miss out on new technologies that can enhance their lifestyle!
We embrace innovation in our homes – from giant tablets* that provide hours of interactive fun to VR equipment that transports residents to new places or allows them to relive past experiences.
* depending on the location.