Daily life at St Clements Care Home
We believe in the personal touch
As a family-founded care home, we truly value the importance of those personal touches. Our mission is to ensure that everybody at St Clements feels well taken care of, comfortable, supported and, of course, at home.
We are passionate about offering all residents a bespoke approach to care. We love listening, and we take the time to hear what our residents have to say. Their needs and wishes matter most to us, which is why we offer a personalised care service uniquely tailored to all our residents' requirements.
Book a visit
Family values are at the heart of everything we do, and our residents relish the care and attention they receive from us. We believe that mutual understanding and communication are key, which is one of the many reasons our residents are so content here.
From their favourite radio station to the newspaper they read, we make sure we find out the things that help make our residents feel at home.
Daily life at St Clements
Whilst some of our residents prefer to savour their own company - or that of a novel and a cup of coffee, those that wish to socialise and sample new hobbies are never short of things to do. From arts and crafts sessions to flower arranging sessions and foodie events (plus more), staying entertained and having fun are two things we're hugely passionate about.
We're a family-oriented care home, and the personal desires of every resident sit right at the heart of everything we do. Our specialised care programmes have been carefully designed to ensure that everybody can still enjoy the activities and comforts they did in their own homes.
For some residents, leaving their own homes and relocating to a care home facility can cause a sense of loss of independence, but here at St Clements we've created an environment in which everybody can continue to enjoy their freedom. We're not here to change anybody, and we appreciate that everyone wishes to spend their time differently. Our job is to make life as fun, comfortable and relaxing as possible.
Mealtimes at St Clements
Mealtimes at St Clements are flexible, relaxed, enjoyable, and of course, delicious. Our talented chef is here to rustle up nutritious, well-balanced meals that our residents love. On special occasions, residents can also arrange a private dining experience with loved ones, just as they would in their homes or the homes of family members.
What's particularly great about our menus and the food we serve is that everything has been carefully planned. We're aware that seniors often have a decreased appetite, and thanks to our chef's expert nutritional knowledge, we're also able to create dishes that are particularly beneficial for older adults. So, not only do our meals taste scrumptious, but they're also exceptionally wholesome and healthy.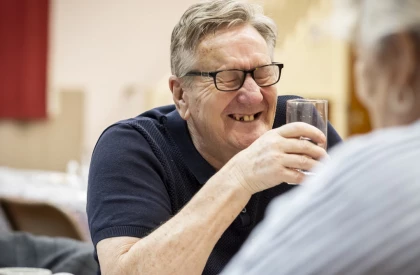 "
St Clements is an amazing care home. The staff are caring, attentive, respectful, and always willing to answer any questions or concerns that I have about my dad. The home is clean, bright, welcoming and cosy. My family and I feel blessed to have our...
"