Double success for Thorp House nursing home in Griston, near Watton, at Kingsley Healthcare awards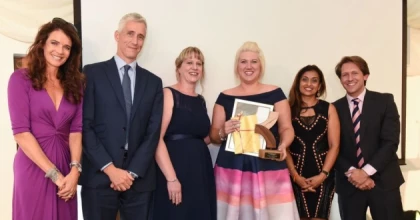 Kirsty Holden, at Thorp House in Griston, near Watton, won the flagship care home manager of the year award while Jade Smith took the activities coordinator of the year title. Meanwhile, Thorp's Jordan Wilson was a runner up in the prestigious support worker of the year category. The home was also nominated for the care home of the year award, won by Kirkley Manor in Lowestoft, and for care home marketing initiative of the year in recognition of its successful Spring Bank Holiday vintage fete.
Judges remarked that Mrs. Holden was "full of life, committed, knowledgeable and caring" and said she saw residents as an extension of her own family. The relationships she had built up with the professional teams meant that the home was sought after by all sectors with beds in high demand. Miss Smith was described as "the girl who brings the home to life and a clear winner in the eyes of the staff and the residents".
The awards, hosted by BBC Look East presenter David Whiteley and former tennis star Annabel Croft, were held at the Ivy House Country Hotel in Lowestoft for a third year. Kingsley Healthcare chief executive Daya Thayan gave an upbeat message on the company's fortunes in his opening address. He told staff and invited guests: "We have sustained compound annual EBITDA growth of 35pc per annum over a 17 year period. "That is a tremendous achievement and we would not have been able to grow without the great work you, our staff, do day in, day out. "You are the backbone of our operation and it is your commitment and compassion that we celebrate here today."
He said it was the dedication of staff that had been instrumental in Kingsley's rise to become one of the best operators in the country in terms of low staff turnover and 72pc good CQC ratings.
Featured
Kingsley Home Care sponsored Tate becomes youngest holder of powerboat speed record
Corporate news