Highcliffe maintenance man Danny reveals his world-beating sporting secret!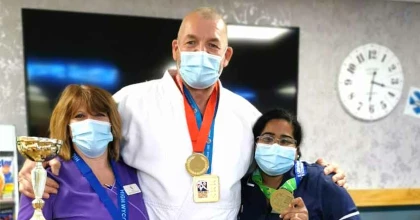 To the residents of Highcliffe Nursing Home Danny Murphy is their reliable Mr Fixit, the modest maintenance man who, without fuss, sorts any repairs and keeps paintwork gleaming.
But in the week that he passed his landmark 60th birthday he decided to surprise everyone by revealing the other side of Danny.
Swapping workwear for a judogi and legendary black belt, he opened up to residents about his successes in judo on the world stage.
They were enthralled to see his impressive haul of medals, including silvers from two Masters (0ver 30s) World Championships in Japan and Toronto, Canada, in the late 1980s.
Mr Murphy, whose wife Pam also works at the Kingsley Healthcare home as a housekeeper, said: "I was a relatively late starter in my 20s.
"I took my kids along to a club because of bullying at school, watched them training and thought, 'I can do that'."
He became a member of London's Budokwai club, which had schooled Olympic medallists Brian Jacks and Neil Adams, and said he was lucky enough to be trained by national coach Roy Inman OBE.
Over three decades the father of three combined his sporting prowess in the over-100kg category with life as a black cab driver in London, commuting to Heathrow from his home in Pennington, Hampshire.
He said: "Before the Covid pandemic I decided that being a black cab driver and commuting was a younger man's game.
"I have always done painting and decorating and joined the team at Highcliffe two years ago."
Mr. Murphy still trains consistently and plans to resume judo competition when the pandemic is over.


Find out more about Highcliffe nursing home

Author: Stephen Pulliner