Hugo makes a big impression at Downham Grange
For sharing the office of new home manager Sally-Jane Papworth is Hugo, her larger than life labradoodle. Hugo is a qualified PAT (Pets as Therapy) dog and has already made a big impression on residents at the home in Clackclose Road, Downham Market.
Ms Papworth said: "Many of our residents lived in the countryside and dogs have played an important part in their lives. "One of our residents, who has always owned dogs, immediately took Hugo's lead and the pair became good friends straightaway. "Introducing Hugo to another resident sparked an interesting conversation as I discovered he used to breed Great Danes." She said Hugo had to pass a rigorous assessment with the PAT charity to prove he had the right temperament to be a therapy dog. "He had already attended 18 months of dog training classes ahead of his assessment at a village hall," she said.
"The assessor went on a walk with us and tested his reaction to loud noises by dropping a tin of buttons and making other loud/unexpected sounds to check for any sensitivity to unexpected and loud sounds; she also assessed his reaction to other people to check there was no danger of him jumping up or unexpectedly licking someone." Hugo will be making regular visits to the Kingsley Healthcare run home along with three other therapy dogs which already come in. Ms. Papworth, a mother of two, said: "Introducing dogs and other animals into care homes has proven to have an amazing effect in lifting the mood of elderly people and sparking happy memories for those living with dementia."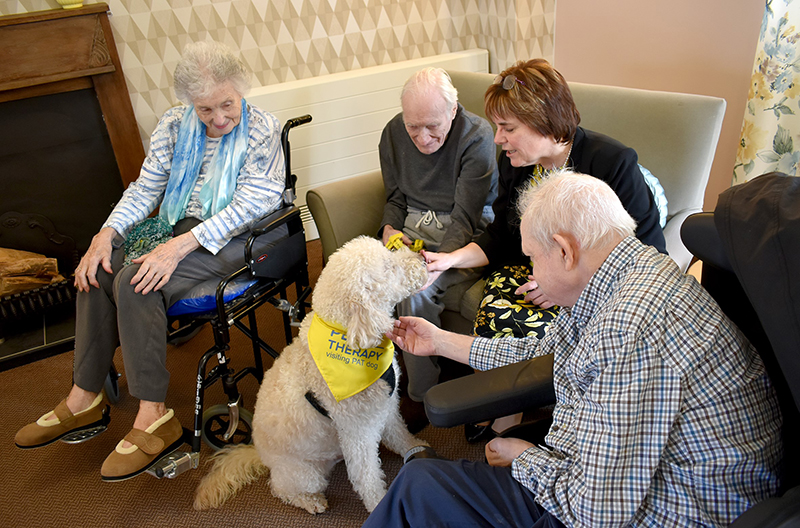 She said she was relishing a return to home management having most recently worked as a director of care overseeing a number of homes. "Working in care homes is my passion – it's where I have worked throughout my 38 year career as a nurse – and I have always felt that a home manager role is one of the most rewarding roles in the care industry. It is a role where I can make a difference to those in my care through influencing the care and support delivered by the team to ensure we meet the needs of individual people," she said. "I have been reassured to see that staff here really care about the residents and they are striving to deliver great care.
"They have welcomed me very warmly and shown that they want to work with me to quickly take Downham Grange back to a good CQC rating."
Featured
Visit by Girl Guides brings back special memories for residents at Downham Grange
Care Home news