"Magic" activities table transforms leisure time at Sharston House, in Knutsford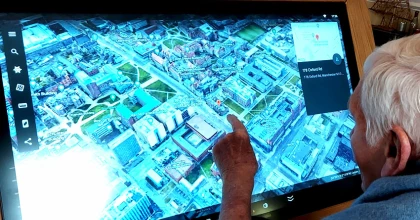 Leisure time at Sharston House Nursing Home, in Manor Park South, Knutsford has been transformed by a state-of-the-art "magic" activities table.

Activities coordinator Sarah Jo Wild said the giant, portable tablet was so versatile the entertainment possibilities for residents were virtually endless.

"We have been having lots of fun playing interactive games, such as Who Wants to be a Millionaire, and it has transformed our daily activities in all kinds of ways.

"We have been exploring where residents lived or worked on Google Earth and even looked at a live webcam of garden birds – some residents love that!

"It has allowed us to watch baby barn owls in their bird box and do quizzes for Elvis's birthday."

She said there were sensory games designed to be especially beneficial for people living with dementia.

Nishi Gottlieb, manager at the Kingsley Healthcare home, said: "The table has brought huge value to our daily activities. Residents can play games together or on their own.

"I think it's amazing to see just how much you can do on the magic table."

She said the £5,500 table was moveable and height-adjustable so it could be used by residents in wheelchairs or in bed.


Find out more about Sharston House nursing home

Author: Stephen Pullinger
Featured
Visit by Girl Guides brings back special memories for residents at Downham Grange
Care Home news