Magical effect of donkeys in care homes!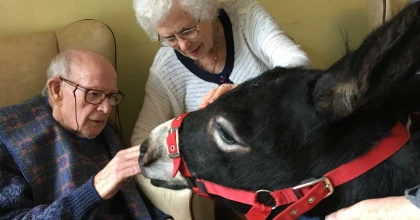 Magical effect of donkeys in care homes! When Sarah McPherson was supporting her mother Patricia Little through the later stages of dementia she discovered one thing that really brought a smile back to her face donkeys. She found that the donkeys she kept at her home in Hempnall, south of Norwich, had a magical effect better than any medicine. "The calm nature of the donkeys made her calm and it made her smile which was something that had become quite rare," she said. Following her mother's death earlier this year, Ms McPherson, 54, resolved to let others enjoy the therapeutic benefits of her four donkeys and set up a social enterprise called Mini Donkeys for Wellbeing. Now, with the help of 12 volunteers, she takes them to care homes across Norfolk and Suffolk.
On a recent visit to Kingsley Healthcare run Heron Lodge care home, in Norwich Road, Wroxham, delighted residents could not believe it when they came face to face with donkeys indoors. Operations manager Gina Dennison said: "Many of our residents are living with dementia and pet therapy is known to be a tonic for them – but you are usually talking about dogs and cats. "Residents had the biggest smiles on their faces when they saw the donkeys." The donkeys refused to go up in the lift so to enable resident Patricia Simpson to see them from her upstairs bedroom, staff positioned a mirror at an angle so she could see them in the garden. "It took a lot of running around and staff shouting, 'left a bit, right a bit'", said Ms. Dennison. "One of our residents who is German and no longer speaks, burst into speech and began talking about the donkeys. To see her face light up was amazing. This was an emotional moment to witness." Ms. McPherson said: "It is tremendous to see how the donkeys spark so many memories when we go around the care homes.
"It brings back memories of donkey rides as children and, in Norfolk and Suffolk, many people come from a farming background and may have had a donkey." To contact Ms. McPherson about donkey visits, call her on 07810 385633.
For more information on our home in the heart of the Broads, visit www.heronlodge.care