Queen Charlotte Nursing Home in Weymouth supports local charity football tournament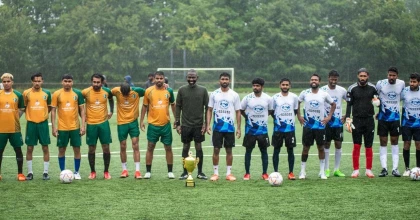 Staff at Queen Charlotte Nursing Home near Weymouth were inspired by their colleague, Clinical Lead Nurse Clinta Cleetus, to support a charity football match.
She is a member of Dorchester's Malayali community, originally from Kerala, in India, which has been hosting a successful UK Malayali Intercity Football Tournament in the town since 2019.
The Kingsley Healthcare home in Chickerell Road, Chickerell, made a £300 donation to the tournament which this year raised around £2,000 for the Dorchester County Hospital Charity and SOS India, a charity that supports children from deprived backgrounds.
Queen Charlotte manager Mark Grundonner, pictured presenting the trophy and prize to the winning team, Northerner FC, based in north London, went along to the event with Kingsley's Regional Hospitality Manager Simon Lewis.
Organiser George Davis, a surgeon who used to work at Dorset County Hospital, said: "We have a big Malayali community in Dorchester and Weymouth. Our event is one of the few tournaments across the country within the Kerala community where we aim to increase awareness of football within the community while supporting charities."
Featured
Visit by Girl Guides brings back special memories for residents at Downham Grange
Care Home news